Since I started doing the redux recaps, I've had to rewatch his old videos. Then I thought "I could use this opportunity to find the differences on his DVD." So thanks to a channel at DailyMotion I can see if paying $12 for a burned DVD-R is worth it.
Here's a list of changes Bores reported to have made to the DVD versions (taken verbatim from his site).
- Episodes 1, 2, and 3 re-edited and reworked
- Ep 5 - Dialog reworked
- Ep 6 - Alternate scenes filmed, Dialog reworked
- Ep 7 - Alt. scene re-filmed, Dialog reworked
- Ep 8 - Added rant included, Alt. scene re-filmed, Dialog reworked
- Ep 9 - Major upgrades, Alternate scenes re-filmed, Dialog reworked
- Ep 11 - Scene added, Dialog reworked
Let's see how honest he is about this.
Link to the Channel:
http://www.dailymotion.com/IrateGamerSucks
Despite the same name as the blog, it's not me.
Back to the Future:
- Theme Song Added
He added the theme to all the videos that didn't use it.
- Added (copyrighted) material
-- Tom Servo and Crow T. Robot were added to the opening theater scene. Though they couldn't stand his presence so they left before it ended.
- Removed Clip
-- The bit where Marty asks the bartender for a "Pepsi Free" and is told he has to pay for it. Not sure why he removed this clip but kept the movie footage in the opening and Marty saying "This has gotta be a dream"
Difference from the Original: Almost non-existent. With the exception of the MST3K characters (which his fans wouldn't understand) it's the exact same review.
Where's Waldo?:
- Theme Song Added
- Removed Clip
-- When asking about the other characters he leaves out the Evil Waldo. That's a bizarre edit.
- Removed Clip
-- He removes the footage of him playing the final level. Hinted by him saying "Let's just skip to the ending." What a completely necessary change… I'm lying of course.
Difference from the Original: Almost non-existent. Except for a couple of randomly removed clips, there's no difference from the YouTube version. He didn't even correct his "Super Mario World on the NES" mistake.
The Goonies II:
- Theme Song Added
- Altered Dialogue
-- Original: I fondly remember this game as a kid, I loved the movie so much I went out and bought it. But as much as I loved the movie, I had the opposite reaction to this game.
-- DVD: Who can forget this classic game? *skips right to the title complaints*
So he shortened it to outright say he liked this game, making all of his complaints even dumber.
- Removed Footage and Dialogue
-- He removes the movie footage (seriously) and the speculation that it's a sequel to the movie.
Strange how he removed the footage here, but didn't remove it from the Back to the Future review.
- Removed Dialogue
-- He removed the descriptive line about how this game doesn't have levels and you go around looking for items.
Note the very awkward transition.
- Removed Dialogue
-- When he's told "You're Braver Than Brand", he removes the "I've honestly never heard that term before in my life!" line.
Difference from the Original: So far the only noticeable one. The movie footage is gone but some of the missing lines create awkward transitions.
Mission: Impossible:
- Theme Song Added
- Altered Dialogue
-- Original: What a shitload of fuck!
-- DVD: What a piece of shit!
This is the one everyone knows about so I won't say much here.
Difference from the Original: Again, this is the only change everyone knows about. Strange how he doesn't mention any changes to this episode.
Ghosts N Goblins:
- Theme Song Added
- Altered Dialogue
-- Original: When you think of one of the most hardest games for the NES…
-- DVD: When somebody asks you for five of the most difficult games on the NES…
Well it was kind of him to remove the "most hardest" line, he didn't remove the second piece of bad grammar "I guarantee Ghosts N Goblins is probably on your Top 5 list." Plus the new line makes it redundant.
Difference from the Original: All he did was change the opening line. I bet the people that paid for this are so happy right now. Although the list of changes was honest.
Jaws:
- Theme Song Added
Difference from the Original: NONE WHATSOEVER!
Indiana Jones and the Temple of Doom:
- Theme Song Added
-- Oddly enough, it was added after the shockingly inept intro.
- Music added
-- He added light-hearted music to the part where he speeds up the game. I was lucky to even hear it, the volume was low.
Difference from the Original: Once again, there's next to nothing.
Super Mario Bros. 2
… Nothing. There was nothing different. Everything was the same.
MUSCLE
Again, nothing was changed. I thought the user accidentally uploaded the original version by mistake, but I checked and it's the DVD version.
I should mention that each video has better picture quality, but that's standard with a DVD. That's how I determined it was the DVD version of MUSCLE.
Teenage Mutant Ninja Turtles
Once again, nothing was changed. DIS IS TOTALLY BETTER THEN NERD'S DVD DURP DUPR DURP.
Yo! Noid
- Added Scene
-- To my surprise there was a change. He pointed out the "mayer" mistranslation. Strange how he didn't notice this the first time.
Difference from the Original: Noticeable.
That's the Irate Gamers' DVD in a nutshell, BUT WAIT there's bonus features!
So we get a Making-Of feature where Bores is talking into a mirror about how the Irate Gamer show "became a huge success", all the "hard work", and a bunch of other lies that he thought up just to sell this burned DVD-R.
We also get bloopers, really REALLY bad bloopers.
The Hotel Gaming sketch, apparently it was good enough to be a bonus feature.
Finally, trailers for the TMNT and Yo! Noid reviews. I know movies put their trailers as an extra, but they can do that. Since IG is a series, it would make sense to put trailers for upcoming episodes. But that would be logical and obviously that can't happen.
You can get all this for $8.99! Wait… wasn't it $11.99? Apparently he has since lowered the price, and I can't blame him. Nobody wants this piece of shit!
So, why did The Bores release this DVD 7 months into his show?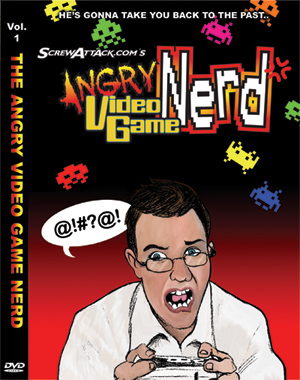 That's right, the sole reason Bores rushed out his first DVD was only to compete with the AVGN's first DVD.
In October, James announced that he was releasing the AVGN DVD very soon (I think it was October). Then like fucking magic, the Irate Gamer announced a DVD. However, this one was already in stock and available to purchase.
People like Armake21 or anyone with a brain saw this as a giant ruse just to make money. Anyone that purchased the DVD to see how bad it was, noticed that it was extremely rushed. Though, very few people actually did buy the DVD. AGEntertainment made a review of it (along with The Nerd's DVD) and brought to light the altered Mission Impossible dialogue and the intact copyrighted footage.
And here's an open question to Mike *****, what was your reaction to learning Bores was releasing a DVD?
As you might have guessed, the Irate Gamer DVD sold poorly. While The Nerd's DVD sold out TWICE within a week, IG's stockpile of DVDs stayed unwanted. Only being bought as gag gifts or from haters that use it to learn where he lives (no really, he sends out the DVDs from his home address).
Bores has mentioned a few times that he's working on Volume 2, however very little has come from that. It's very likely that it will never happen because NOBODY LIKES YOU CHRIS!
So there you have it, the Irate Gamers' bomb of a DVD. Stay tuned for my Redux Recap of his review of The Simpsons Game.